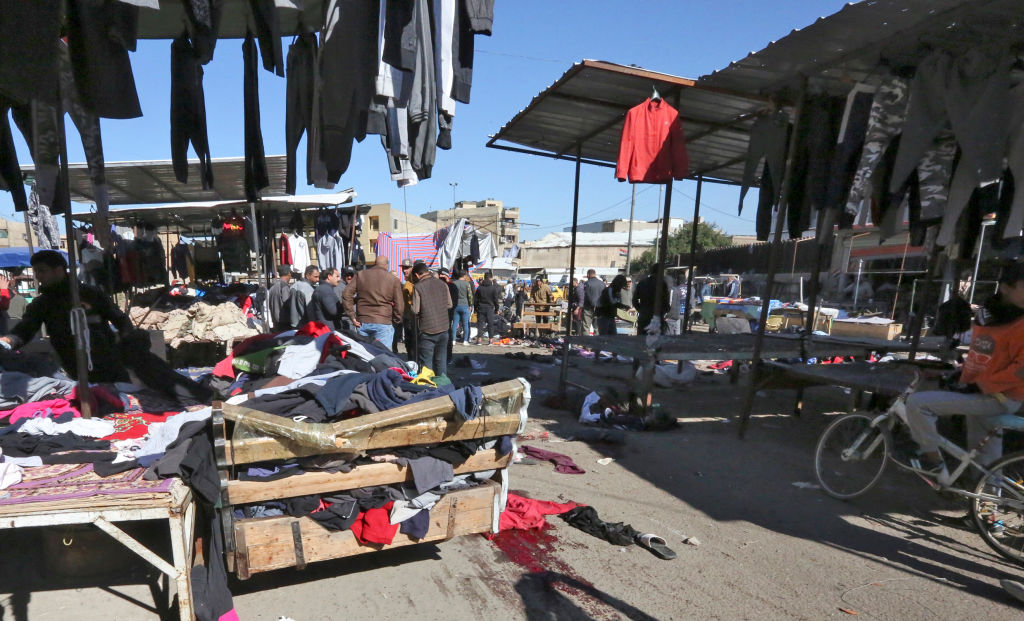 by Con Coughlin
February 14, 2021 at 5:00 am
Click Here To Read More!!
As the Biden administration prepares to implement its new policy on the Middle East, it is vital that its preoccupation with reviving the Iran deal does not result in the White House overlooking the considerable threat the Islamist fanatics of ISIS continue to pose to global security.
Since taking office, the main priorities of President Joe Biden's newly-appointed foreign policy team, so far as the Middle East is concerned, have been to consider the prospects of reopening negotiations with Tehran over its nuclear programme, and to establish a dialogue with Palestinian leaders, who spent the past three years boycotting President Donald Trump over his decision to relocate the US Embassy to Jerusalem.
By taking this somewhat narrow view of the numerous challenges facing the region, there are mounting concerns that the Biden team will not pay sufficient attention to the mounting threat posed by ISIS terrorists.
The most recent manifestation of the Islamist group's deadly effectiveness was demonstrated last month when it carried out a double suicide bombing at a Baghdad street market that killed 32 people and wounded 75 others.
A communiqué issued by ISIS immediately after the atrocity claimed responsibility for the attack, which Iraqi security officials say was designed to cause maximum casualties and comes at a time when the Iraqi government of Prime Minister Mustafa Al-Kadhimi is struggling with numerous security challenges, not least Iran's continued meddling in his country's affairs.
Moreover, the attack comes against a backdrop of increased activity by ISIS militants in Iraq. Prior to the suicide bomb attacks, ISIS insurgents were blamed for blowing up electricity towers in Iraq's Diyala province, an act aimed at crippling Iraq's already diminished electricity supplies.
ISIS has been waging a low-level campaign of intimidation in Iraq for most of the past year, but the recent increase in activity is evidence of a broader revival in the Islamist group's fortunes after its attempts to establish its so-called caliphate were destroyed by the Trump administration's highly effective campaign against ISIS militants, who surrendered their last piece of territory in 2019.
Since then, the organisation has been busy rebuilding its terrorist infrastructure, to the extent that a recent United Nations Security Council report concluded that ISIS currently controls more than 10,000 fighters organized in small cells in Syria and Iraq.
The upsurge in ISIS-sponsored violence prompted an immediate response from the Iraqi government, which authorised the mass execution of hundreds of ISIS militants convicted on charges of terrorism.
In addition, a joint US-Iraqi military strike last month killed the top leader of ISIS in Iraq. Abu Yasir al-Issawi, a veteran of the jihadist terrorist campaign against the US-led coalition in Iraq, was killed in a joint air-and-ground operation near the northern city of Kirkuk. The attack killed a total of 10 ISIS militants, and also destroyed the group's hideout in a network of caves.
The re-emergence of ISIS as a significant terrorist threat –there have also been reports of increased ISIS terrorist activity in Africa — is certainly a consideration the Biden administration needs to take on board as it rolls out its new Middle East policy.
To date most of the administration's policy announcements have been aimed at reducing tensions with Iran, such as freezing arms sales to Saudi Arabia and the Gulf states and easing restrictions on the Iranian-backed Houthi rebels in Yemen.
By concentrating the new administration's foreign policy resources on reviving the Iran deal and restoring relations with the Palestinian leadership, however, Mr Biden risks overlooking the extremely significant threat posed by the fanatical supporters of ISIS which, if left unchecked, could once again wreak havoc across the Middle East.
–
"Everything is affected… Your work, income, social status, identity, mental health, satisfaction with yourself, your life, your place in society, your independence…. And as a woman it's even harder to remain patient and endure, in a society so opposed to women and femininity, though crying out for them both." — Iranian Christian convert Fatemeh (Mary) Mohammadi, articleeighteen.com, January 21, 2021; Iran.
–