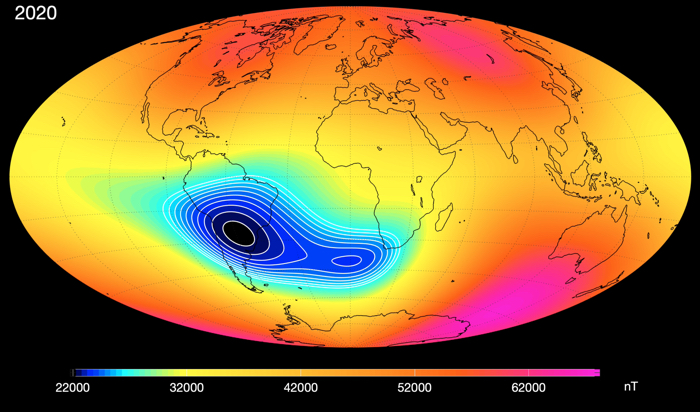 PETER DOCKRILL
Since 1970, the anomaly has been growing in size, as well as moving westward at a pace of approximately 20 kilometres (12 miles) per year. But that's not all.
New readings provided by the ESA's Swarm satellites show that within the past five years, a second centre of minimum intensity has begun to open up within the anomaly.
This suggests the whole thing could even be in the process of splitting up into two separate cells – with the original centred above the middle of South America, and the new, emerging cell appearing to the east, hovering off the coast of southwest Africa.
"The new, eastern minimum of the South Atlantic Anomaly has appeared over the last decade and in recent years is developing vigorously," says geophysicist Jürgen Matzka from the German Research Centre for Geosciences.
"The challenge now is to understand the processes in Earth's core driving these changes."
Just how the anomaly will develop from here is unknown, but previous research has suggested disruptions in the magnetic field like this one might be recurrent events that take place every few hundred years.
Whether that's what we're witnessing now isn't fully clear – or how a split anomaly might end up playing out – but scientists are watching closely, as are we.
–